SOUND RECORDIST
I am a location SOUND RECORDIST for documentaries, film, tv and commercials, operating from GLASGOW & EDINBURGH in Scotland. My recent credits include a CBC FILM about the independence referendum, a RedBull PROMO with BMX legend Danny MacAskill, an interactive World War I BBC DRAMA, the STORY of a female F1 driver and a teaser for Victor Kossakovsky's new DOCUMENTARY. I am also a visiting lecturer in sound recording at Screen Academy Scotland. 
SOUND RECORDIST - SELECTED CREDITS
Songs of Praise / tv / BBC / Dir. David Waters
One Strange Rock / tv / National Geographic / Dir. Graham Booth
Adopted from China / tv / CBBC / Dir. Murali Nair
Stage Changers / doc / Bright Yellow Productions (Australia) / Dir. Ella Wright
Wild Britain / tv / CH5 / Dir. Mitch Turnbull
Luisa Omielan: Politics For Bitches / tv / BBC  / boom operator / mixer: David Ferguson
Tonight - Europe - In or Out? / tv / ITV / Dir. Delilah Jeary
Footballers United / interactive drama / BBC / Dir. Alex Winckler
River City / tv drama / BBC / boom operator, ep. 15.19, 15.20 / mixer: Sinclair Gracie; ep. 15.15, 15.16 mixer: Calum Deas; ep. 15.01, 15.02 / mixer: John Gardner; ep. 15.24, 15.25, 14.21, 14.22 / mixer: Graham McCormick
Gratitude in Scotland / doc / HARK PICTURES/ Dir. Holly Elson
A Quiet Revolution / doc / CBC / Dir. John Walker / Sound Recordist Scotland
Lost in France / doc / EDGE CITY FILMS / Dir. Niall McCann
Lorraine Kelly's Shimmy Across Scotland / tv / STV / Dir. O'Hara
House of Adelaida Ivanovna / SKYLINE PRODUCTIONS / boom operator / mixer: Dougie Fairgrieve
Focus: Danny MacAskill / tv / RED BULL / MILKMONEY FILMS / Dir. Ethan McLean
Aquarela / doc trailer / ACONITE PRODUCTIONS/ ma.ja.de / Dir. Victor Kossakovsky / Sound Recordist Scotland
Waterloo Road / tv drama /  BBC  / boom operator, ep. 23 / mixer: Douglas Kerr
Movement / reality tv / MIR REALITY / Dir. Various / Sound Recordist London
Cinetrain: Russian Winter / doc / MIRUMIR / Dir. Various
Driven: The Fastest woman in the world / doc / BBC / Dir. David Stoddart
Hanley project: Michael Phelps / tv / GOLF CHANNEL / Dir. Rotfeld
Ever believe me: Madeleine Smith / doc / STV / Dir. Carlo D'Allesandro 
Moominland Tales: The life of Tove Jansson / doc / BBC / Dir. Eleanor Yule
Killer / short / MEADKERR Ltd / Dir. Adrian Mead 
Inspiring Scotland: Local heroes / tv / STV CREATIVE / Dir. Simon Ross 
Half Build house / tv / Channel 5 / Dir. Chi Ukairo / Sound Recordist Scotland
Everybody's child / doc / BBC / ACONITE PRODUCIONS / Dir. Garry Fraser
Happy Lands / feature 2nd unit / BBC / TWS / Dir. Robert Rae
RSJ / feature / SCREEN ACADEMY SCOTLAND / Dir. Robert Walker
Once upon a time in Fife / teaser / TWS / Dir. Robert Rae
Babytrapped / doc / ACCIDENTAL MEDIA / Dir. Tomas Sheridan
Join the Dots / short / CIRCLE FILMS / Dir. Jessica Lux / Production Sound Mixer Scotland
Mum's Birthday / PiILTON VIDEO / Dir. Graham Fitzpatrick
Timelock / feature / TIMELOCK MEDIA LTD / Dir. David Griffith
SOUND RECORDIST GLASGOW - COMMERCIAL
EDINBURGH INTERNATIONAL FESTIVAL
SCREEN EDUCATION EDINBURGH
THE REAL MARY KING'S CLOSE
THE CITY OF EDINBURGH COUNCIL
Sound Devices 633 MULTITRACK RECORDER, TIMECODE BOXES, Mixpre 3 PORTABLE RECORDER, Six RADIO MICS (can be also used as camera link), DPA & Sennheiser PERSONAL MICS, Two Sennheiser ew100 radio mics CAMERA GUIDE, Sennheiser 8060, 416 and Schoeps mk641 BOOM MICS, Two Oktava 012 PLANT MICS, REPORTER'S MIC (Beyerdynamics), STEREO SETUP (DPA 4060 spaced omni), Four DIRECTOR'S HEADPHONES, cables, adapters, rechargables, boom poles, etc. More equipment can be hired if necessary.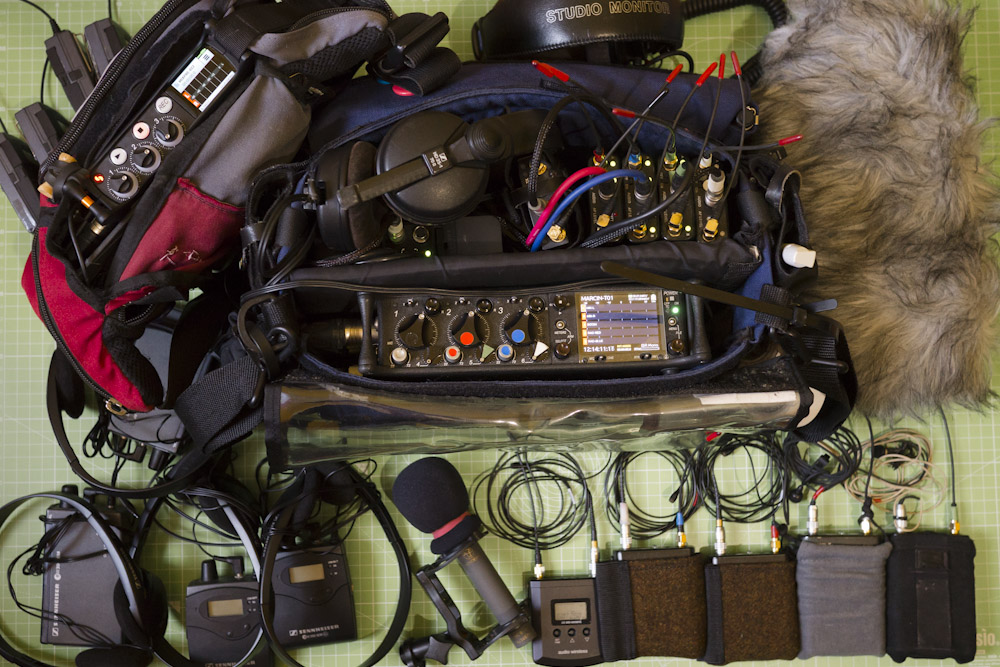 Documentary Sound Kit of a Location Sound Recordist Glasgow Production Sound Mixer Scotland and Location Sound Recordist Edinburgh. Production Sound Recordist Glasgow Sound Technician. Sound Production Glasgow Audio Technician. Audio Engineer Edinburgh Sound Recordist. Sound for Documentary Sound Recordist Glasgow Sound Recordist Edinburgh Production Sound Mixer Scotland Soundie Glasgow.